2015-16 Events
"The Power of North American Urban Textures (As Seen from a Large European Postmetropolis)"
On Monday, October 19 at 5:00pm-6:30pm in the Sankey Room (South Hall 2623).
Dr. Buchenau's past work has explored the "so-called 'postracial turn' in recent North American writings, the diverse forms of literary and cultural transfers and exchanges informing literary production in North America, and the cultural and political work of stereotypical and typological representations of minority groups in texts, maps and visual art."
Dr. Buchenau is also one of the directors of the Research Training Group "City Scripts: Condensation, Inversion, and Assemblage in North American Urbanity," which focuses on "systematic insights into how textual and historical processes have operated in North American scenarios of (de)urbanization and thus have also impacted global developments and phenomena."
"PassingSOLO: From Book to Play to Passing Today"
On Tuesday, October 20 at 2:00pm in South Hall 2635.
Nancy Davis-Bellamy, co-founder of the Towne Street Theater, will be discussing her one-woman show Passing Solo, based on Nella Larsen's famous Harlem Renaissance novella Passing.
 An alumna of American Conservatory Theatre in San Francisco and Lincoln Center Directors Lab West, Davis-Bellamy's directing credits include "Nevis Mountain Dew," "Passing," "Madwoman of Chaillot," "Five on the Blackhand Side," "30 Love," "Medals," and more.
Also an actor, she won the NAACP Theatre Award for "Passing" which she also conceived and has appeared in the films "Menace 2 Society," "The Court Martial of Jackie Robinson," "I'm Gonna Git You Sucka," "The Five Heartbeats," and "Hollywood Shuffle."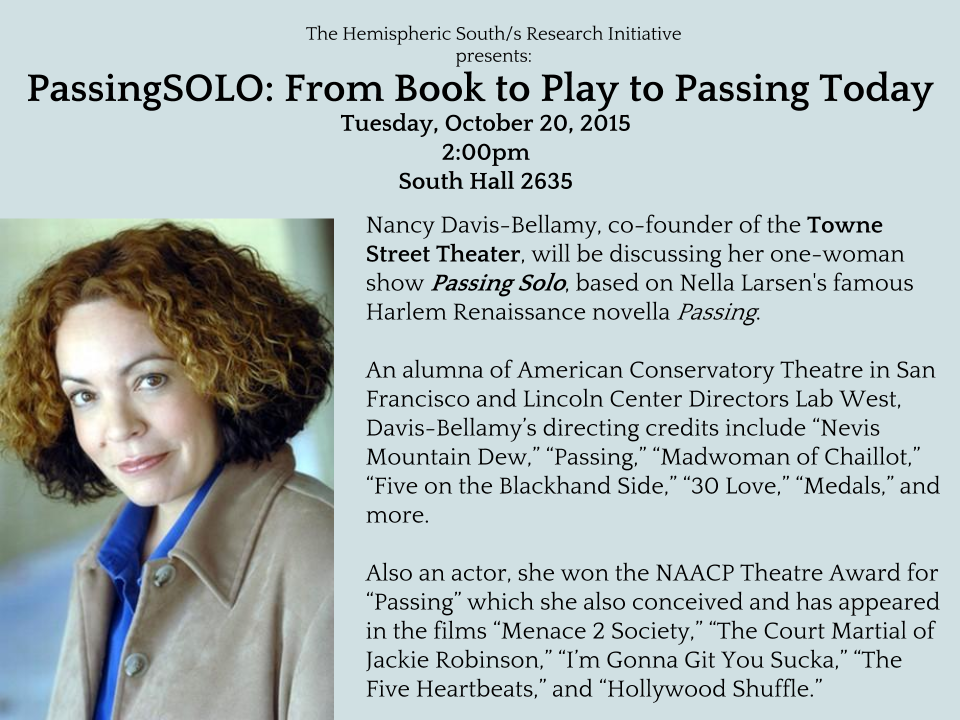 Calendar of Events
If you would like to have an affiliated event added to our calendar, please send an email with event information to hemsouths@gmail.com
Please check back soon for announcements about upcoming events!