2017-2018 Calendar of Events
This year the University of California, Santa Barbara, is hosting the UC Consortium for Black Studies, and the Hemispheric South/s Research Initiative will be collaborating with the Consortium to offer events that consider race, gender and sexuality, power, nation, and performance.
Visit from Distinguished Guest Lecturer Professor Noliwe Rooks
Professor Noliwe Rooks (Department of Africana Studies, Cornell University) will serve as Distinguished Guest Lecturer in Professor Ingrid Banks (Department of Black Studies, UCSB)  Spring 2018 "Women and Politics of the Body" (BLST 106) course.
"In the Black Radical Tradition. . ." Research Symposium
A Research Symposium and Commemoration of Black Studies at 50 Years
Wednesday, April 18, 2018
 to 
Friday, April 20, 2018
UCSB MultiCultural Center
"But always, its focus was on the structures of the mind. Its epistemology granted supremacy to metaphysics not the material." Cedric Robinson, Black Marxism, 1983.
The Black Radical Tradition emerges as a philosophy, a consciousness and a practice of resistance and survival necessitated by the inexplicable and outrageous onslaught of oppressive practices and phobic behavior with which European traditions of colonialism and imperialism assaulted African people as far back as the Roman Empire. This radical consciousness and practice of resistance took its strength and historical endurance from the ability of the African people in the grip of the most violent forms of enslavement, colonialism and imperialism to recreate and conserve the consciousness of the communities and societies from which they had been taken, a consciousness which insisted on the humanity and voice of all human beings.
It was this enduring consciousness that gave rise and enduring life to the traditions, beliefs, myths and messianic visions that gave generation upon generation of African people who found themselves in the grip of the most destructive and horrific ideologies and practices of the West the persistence and ideological vitality to continue to imagine, attempt and put into practice the impossible. This ideological vitality took many forms finding expression in slave rebellions and marronage as well as in the practices of lived experience, embodied in, as Cedric Robinson writes, "the shouts, the spirituals, the sermons, and the very textual body of Black Christianity."
Please find the full program and schedulehere.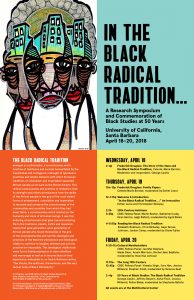 Free-Dem Foundation at UCSB, sponsored by the Center for Black Studies Research
featuring Robert Jones, Jerome Morgan, and Daniel Rideau
Sunday, March 4, 2018
 to 
Tuesday, March 6, 2018
Robert Jones, Jerome Morgan and Daniel Rideau were all wrongly convicted and served a total of more than fifty years in Angola Prison before being found innocent. While in prison they made a pact to someday reunite and go into business together as free men. They enrolled in prison education programs, learned trades, and studied the law. They stuck together and worked with allies outside the prison. Today through their work with Free-Dem Foundations, a non-profit community-based youth organization in New Orleans, they are realizing the vision they created while unjustly incarcerated.
SUNDAY, MARCH 4
4:00 p.m. | Community Dialogue
La Casa de la Raza, 601 E Montecito St., Santa Barbara
6:30–8:30 p.m. | Informal reception
Mosher House Living Room and Library, UCSB
MONDAY, MARCH 5
12 noon | Panel discussion
UCSB Center for Black Studies Research, 4603 South Hall
Jerome Morgan, Robert Jones, and Daniel Rideau discuss the origins, development, and ongoing work of Free-Dem Foundations
6:00 p.m. | "From Wrongful Incarceration to Community Mobilization"
UCSB MultiCultural Center Theater
Jerome Morgan speaks about his life before incarceration, surviving and fighting for freedom while inside Angola Prison, and his work with Students at the Center and Youth Activism
TUESDAY, MARCH 6
Community Building and Accompaniment
11:30–1: Free-Dem Foundations Mentoring Curriculum
UCSB Center for Black Studies Research, 4603 South Hall
Jerome Morgan, Robert Jones, and Daniel Rideau meet with Black undergraduates, graduate students, community affiliates, and the Transformative Pedagogy Project to discuss the Free-Dem Foundation Mentoring Curriculum on life skills and professional development.
Embodying the Present Moment with Sharon Bridgforth and Omi Osun Joni L. Jones
October 24-27, MCC Theater and Lounge
*October 24: Tuesday Evening, Bridgforth will give a reading and lecture entitles "Dat Black Mermaid Man / Healing and Transformation through Art hosted by the MCC, MCC Theater, 7-9pm
October 26: Thursday Evening, Reception and Introductions, MCC Lounge, 7-9pm — Participation by Invitation
October 27: Friday, Workshop and Performance, MCC Lounge
Performance Workshop 9:30-3:00 pm  — Participation By Invitation
                                        3:30-5 Open Practice and Discussion — Open to the Public
Master class facilitators, Sharon Bridgforth and Omi Osun Joni Jones, believe in the power of the body
to say what words do not, and the power of words to guide us to our most courageous selves. For them,
our stories and our bodies reveal our deepest humanity, power, and joy.
Using the principles of theatrical jazz—being present, improvisation, solo virtuosity, ensemble-building—
Jones and Bridgforth guide participants through a series of practices designed to strengthen authenticity
and selfhood. Through movement, truth-telling, and collaboration, this workshop explores the themes of
vulnerability, life challenges, embodied stories, family history, and intention.
Please find our program here (design credit to Chryss Yost):
Embodying_the_Present_Moment_2017Program
*Participants: You may find a detailed schedule, travel and hotel information, and optional supplemental readings and videos here.

"Singing to Keep from Talking" with Cherrie Moraga and Celia Rodriguez
On October 16, 2017, at 4pm in the McCune Room (HSSB 6020)
Presentations by Cherríe Moraga and Celia Rodríguez on the unspoken, the knowing that is found in censorship, taboo, silence; the radical revelations  (consciencia) born from the body's capture and release; how art practice (theater, creative writings, visual work) is a freedom road to that knowledge; strong enough to be unforgettable; strong enough to remember what went wrong in the first place.
The presentations will involve the audience's engagement.
All are welcome!
Co-sponsored by Literature and Mind, American Cultures & Global Contexts Center, Hemispheric South/s, and Center for Modern Literature, Materialism, and Aesthetics.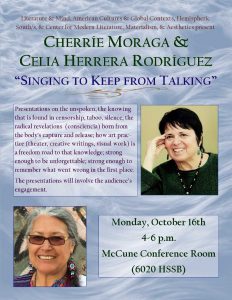 Calendar of Events
If you would like to have an affiliated event added to our calendar, please send an email with event information to hemsouths@gmail.com
Please check back soon for announcements about upcoming events!