October 26-27, 2017
Embodying the Present Moment with Sharon Bridgforth and Omi Osun Joni L. Jones
*October 24: Tuesday Evening, Bridgforth will give a reading and lecture entitles "Dat Black Mermaid Man / Healing and Transformation through Art hosted by the MCC, MCC Theater, 7-9pm
October 26: Thursday Evening, Reception and Introductions, MCC Lounge, 7-9pm — Participation by Invitation
October 27: Friday, Workshop and Performance, MCC Lounge
Performance Workshop 9:30-3:00 pm  — Participation By Invitation
3:30-5 Open Practice and Discussion — Open to the Public
Master class facilitators, Sharon Bridgforth and Omi Osun Joni Jones, believe in the power of the body
to say what words do not, and the power of words to guide us to our most courageous selves. For them,
our stories and our bodies reveal our deepest humanity, power, and joy.
Using the principles of theatrical jazz—being present, improvisation, solo virtuosity, ensemble-building—
Jones and Bridgforth guide participants through a series of practices designed to strengthen authenticity
and selfhood. Through movement, truth-telling, and collaboration, this workshop explores the themes of
vulnerability, life challenges, embodied stories, family history, and intention.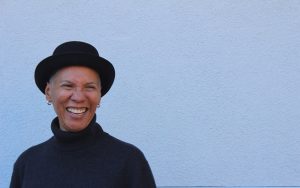 Please find our program here (design credit to Chryss Yost):
Embodying_the_Present_Moment_2017Program
*Participants: You may find a detailed schedule, travel and hotel information, and optional supplemental readings and videos here.