2012-2013 Academic Year
---
2012-2013: RACE & AFFECT
Director: Dr. Stephanie Batiste
RA: Alison Reed
The Hemispheric South/s Research Initiative supports an interdisciplinary intellectual community of scholars and students invested in thinking critically about race, ethnicity, nation, culture, and power. Hemispheric methodologies and research demonstrate a particular interest in comparison, interaction, overlap and movement between people, locales, and ideas. The Research Initiative concerns itself with questions of how the South participates in global networks of culture and economy; what new theories or methodologies are needed to think of southern sites as affected by and contributing to globalization; and how global and transnational processes reflected and produced in literature, literary histories and cultural practice could be said to constitute a global South. The initiative is especially attentive to the following themes: 1) translocal and transnational affiliations and networks; 2) transnational conflict and cooperation; 3) contested spatial dynamics and registers; 4) alternative histories, futures, and notions of time; 5) bio-politics and race as a crucial feature of southernness; and 6) socio-economic policies and actions intended to alter, extend, or supplant aspects of southernness. The initiative sponsors independent programming, works with other on-campus units to create programming and community opportunities, and co-sponsors events with other programming bodies. Co-sponsorship is as important as independent programming as collaboration promotes creative research in race and ethnicity broadening and strengthening efforts in promoting diversity of knowledge and experience in our environment. This year, Hemispheric South/s hosted the third installment of "Bodies in Space," a UC-wide Guerrilla-Style Performance Theory Graduate Conference, led by LA-based performance artist Karen Anzoategui. The initiative has also brought in or co-sponsored numerous guest speakers and performers, including but not limited to Diana Taylor, Xavier Livermon, Brandi Wilkins Catanese, and Rickerby Hinds.
Check out more information for each listing by clicking on the event title — the link will take you to our event archive.

Sponsored Events:
1. DREAMSCAPE PERFORMANCE AND WORKSHOPS
Thursday and Friday December 6-7, 2012, Hip Hop Theater Artist Rickerby Hinds visited our campus. He spoke at a lower division lecture in English and Black Studies, presented his full-length play Dreamscape featuring 2 hip hop artists, facilitated two workshop sessions to which UCSB community members were invited as participants and audience members, and spoke at a graduate seminar in Theater and Dance. You may read an excellent review by PhD Candidate Amanda Phillips here. A schedule is also included below:
Thursday December 6, 2012
12:30pm :: English/Black Studies 38B, Professor Stephanie Batiste
8pm :: Performance of Dreamscape written and directed by Professor Hinds (Girvertz 1004)

Friday, December 7, 2012
11-1 pm :: Hip Hop Theater Workshop with playwright and director, Professor Rickerby Hinds, UCR (GIRV 1004)
2-3 pm :: Hip Hop Theater Workshop with Professor Hinds featuring Stacks of Obits by Stephanie Batiste (SRB Multipurpose Room)
4:30pm :: Adaptation, Professor Carlos Morton, Theater and Dance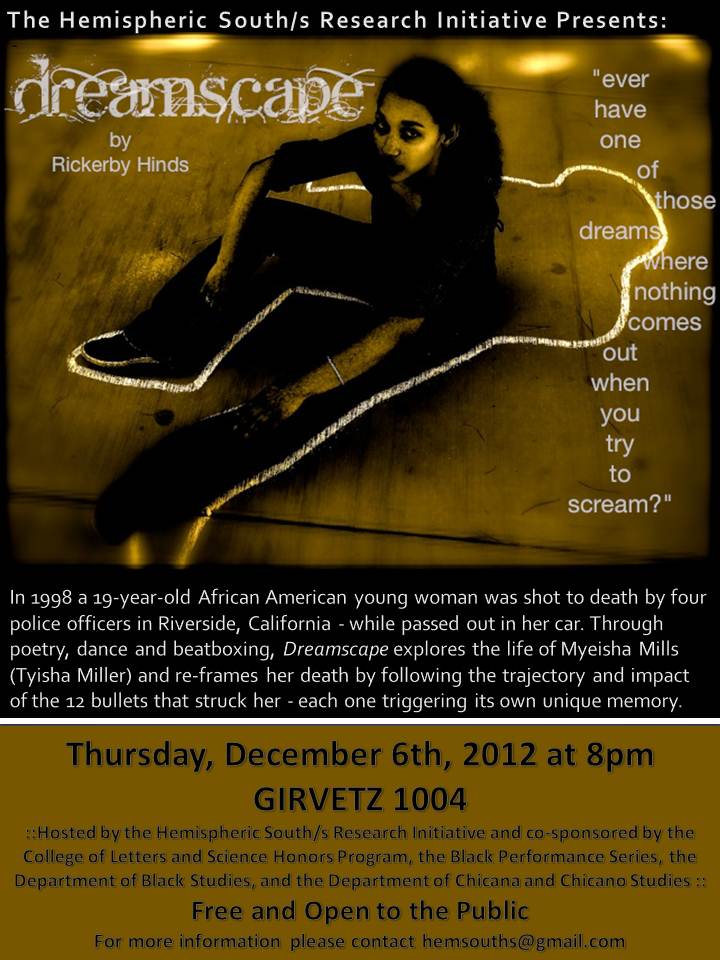 Transpacifics Roundtable: An Interdisciplinary Dialogue Hosted by the Hemispheric South/s Research Initiative, Friday, January 18, 2013 from 12:00-12:50pm in SH 2635.
There is a critical mass of scholarship around the Pacific and its rims in the English Department at UC Santa Barbara, as the following global studies oriented classes were offered this Winter Quarter 2013:
Anne Cong-Huyen – "The Literature and Media of Asian American Transnationalisms"
Yunte Huang – "Transpacific Literature"
Chris Newfield – "Global California"
The Transpacifics Roundtable brought together these departmental interests to think critically about Asian/American Transnationalisms in a global context. The Hemispheric South/s Research Initiative thus seeks to promote and sustain the synergy and verve around teaching and research in race, ethnicity, and transnational flows of bodies, capital, and ideas by fostering ongoing collegial conversation across campus.
The Hemispheric South/s Research Initiative and the American Cultures and Global Contexts Center collaboratively presented "Duplicitous Inclusions: Race and Subject of Nation" from 1:00-4:00pm on Friday, March 8, 2013 in SH 1415.
Featuring the following speakers:
Xavier Livermon, Assistant Professor, Africana Studies, Wayne State University
"Kwaito Bodies in African Diaspora Space: Race, Gender, and Performance in Post-Apartheid South Africa"
Brandi Wilkins Catanese, Associate Professor, African American Studies & Theater, Dance, and Performance Studies, University of California, Berkeley
"Racial Ventriloquism and the Problems of the Colorblind"
Our third annual ::Bodies in Space:: Guerrilla-Style Graduate Conference took place on Saturday, April 13, 2013 from 10am-6pm in the McCune Conference Room at UC Santa Barbara. ::Bodies in Space:: is a unique conference that assembles a small group of graduate scholars interested in working through performance to investigate how our various disciplines think through the racialization and spacialization of bodies. Using embodiment as both a way of knowing and as a way of showing, participants work in small groups to engage in a one-day experimental session to theorize these questions with regard to our theme of listening.
The Format:
This year's conference format differed from prior years, in that performance artist Karen Anzoategui led us in a day of intensive performance exercises centered on the theme of listening, after which we created an impromptu collaborative performance on the theme. Karen is a writer/poet/artivist/performer whose work has been showcased nationally. Her most recognized work, Ser: L.A. vs. B.A. (finalist in the prestigious Downtown Urban Theatre Festival in New York) is a solo play that was inspired by protests on immigration in Los Angeles and social manifestations in Argentina including Las Madres de La Plaza de Mayo, Los descamisados and from the economic default of 2001. Karen's current solo show, Catholic School Daze, speaks about Catholicism and bullying within LGBTQI communities.
Co-sponsored Events:
1. DIANA TAYLOR TALK
The Politics of Passion: Activists Take To The Streets In Mexico
Diana Taylor (Performance Studies/Spanish, NYU)
Wednesday, April 17 / 3:30PM
McCune Conference Room, 6020 HSSB
2. TOMMY AND THE HIP-HOP CLOWNS YOUTH EVENT
Tommy and the Hip-Hop Clowns
April 20, 11 am
Dance Performance/MCC Theater
Tommy the Clown began dancing as a way to motivate and inspire youth to stay on a positive track. Now he and his dance crew, the Hip-Hop Clowns, tour the world exciting audiences with a high energy street dance known as krumping. Join us for this incredible and interactive dance performance. Co-sponsored by the Hemispheric South/s Research Initiative; Isla Vista/UCSB Liaison; the MultiCultural Center; and the UCSB Early Childhood Care & Education Services.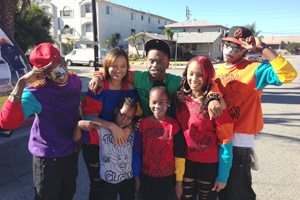 3.  VIETNAMERICA: Drawing Our Past to Write Our Future – GB Tran
Monday, January 28, 6:30 pm
Discussion/MCC Lounge
GB Tran, author and illustrator of the graphic memoir VIETNAMERICA, shares the journey of discovering his roots and identity as a first generation Asian American artist. Selected by TIME Entertainment as one of the top 10 graphic memoirs of all time, VIETNAMERICA details his family story of trauma, tragedy, and triumph during and after the Vietnam War as well as GB's own unexpected search to preserve their legacy in a unique and complex art form. Co-sponsored by the American Cultures and Global Contexts Center, the Asian American Studies Department, the Asian Resource Center Educational Opportunity Program, the Hemispheric South/s Research Initiative and the Transcriptions Center.
2011-2012 Academic Year: "Cross-Currents: Oceanic Connections and Movements"
---
Read the full scoop here. Some highlights are included below:
Talk by Dr. Isaiah H. Walker
When: April 25, 2012, 4pm
Where: McCune Conference Room, 6020 HSSB, UCSB
The author of Waves of Resistance: Surfing and History in 20th Century Hawaii will be speaking, following an introduction by Dr. Teresa Shewry (UCSB, English) of the Center for Literature and the Environment.
Surfing has been a significant sport and cultural practice in Hawai'i  for more than 1,500 years. In the last century, facing increased marginalization on land, many Native Hawaiians have found refuge,  autonomy, and identity in the waves. In Waves of Resistance Isaiah Walker explains that throughout the twentieth century Hawaiian surfers  have successfully resisted colonial encroachment in the po'ina nalu  (surf zone). The struggle against foreign domination of the waves goes back to the early 1900s, shortly after the overthrow of the Hawaiian  kingdom, when proponents of this political seizure helped establish  the Outrigger Canoe Club's haoles (whites)-only surfing organization  in Waikiki. A group of Hawaiian surfers, led by Duke Kahanamoku, united under Hui Nalu to compete openly against their Outrigger rivals  and established their authority in the surf.
Walker also examines how Hawaiian surfers have been empowered by their  defiance of haole ideas of how Hawaiian males should behave. For example, Hui Nalu surfers successfully combated annexationists,  married white women, ran lucrative businesses, and dictated what non-Hawaiians could and could not do in their surf, even as the  popular, tourist-driven media portrayed Hawaiian men as harmless and  effeminate. Decades later, the media were labeling Hawaiian surfers as violent extremists who terrorized haole surfers on the North Shore.  Yet Hawaiians contested, rewrote, or creatively negotiated with these stereotypes in the waves. The po'ina nalu became a place where  resistance proved historically meaningful and where colonial  hierarchies and categories could be transposed.
While born and raised in Keaukaha Hawai`i, Isaiah Walker is currently an Associate Professor of History at Brigham Young University- Hawaii  on O`ahu's North Shore. He earned a PhD in History from the University of California, Santa Barbara in 2006. He is the author of several academic articles, and has most recently published Waves of  Resistance: Surfing and History in Twentieth Century Hawai`i. In addition to researching and writing Hawaiian and surfing history, he  is an avid (and former competitive) surfer.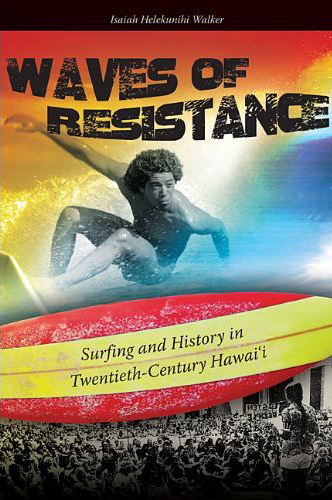 Talk by Dr. Yolanda Covington-Ward
"'A War Between Soldiers and Prophets': Embodied Resistance in Colonial Belgian Congo"
When: Wednesday, May 2, 2012, 4-5 p.m.
Where: NH 1106
On April 6, 1921, a MuKongo man by the name of Simon Kimbangu laid his hands on a sick woman in the name of Jesus Christ, prayed, and began to tremble. The miraculous healing that resulted was the impetus for kingunza, or prophetic movements, which spread throughout the Lower Congo region and provoked responses of confusion and fear amongst the Belgian colonial administration. Based on fourteen and a half months of ethnographic and archival research, this paper places the body and embodied practices at the center of an analysis of Kongo colonial-era prophetic movements. I use personal interviews as well as documents from the American and British Baptist Missionary Societies and Belgian colonial archives in order to examine spirit possession and trembling (kuzakama) as sites of moral and political contestation between the church, colonial state, and the indigenous population in the Lower Congo. In the Belgian Congo, kingunza were seen as subversive movements that menaced the colonial administration and the hegemony of the European-led missions. This paper demonstrates that, through what I call "performative encounters," prophets and other adherents of the kingunza movements used a type of alternative legitimacy gained from the spiritual realm to subvert Belgian colonial authority, using Kongo bodies as the key weapons of resistance while simultaneously transforming the local religious landscape.
Yolanda Covington-Ward is Assistant Professor in the Department of Africana Studies at the University of Pittsburgh. She received her Ph.D. in Anthropology from the University of Michigan. Her research, which is based in the Democratic Republic of Congo, looks at the various ways that the body is used to transform power relations and group identities through everyday performances. She has previously published in the journals Women and Performance: A Journal of Feminist Theory, Transforming Anthropology, African Research and Documentation, The Journal of Religion in Africa, and The Journal of Black Studies. She also has a chapter in the edited volume Missions, States, and European Expansion in Africa (Routledge 2007). Yolanda is currently working on revising her manuscript, Gesture and Power: The Politics of Everyday Performance in Congo, for publication as a monograph. She is the recipient of numerous fellowships, such as a Fulbright award and the Andrew Mellon Fellowship in Humanistic Studies.
::Bodies in Space: Flow/s:: A Guerrilla-Style Performance & Theory Bake-Off
When: May 11th and 12th, 2012
Where: UC Santa Barbara, Student Resource Building MultiPurpose Room
::Bodies in Space: Flow/s:: is a two-day graduate event that begins with a series of roundtables and ends with a guerrilla-style performance. Highlights of the program include a master class with theatre artist Sharon Bridgforth, and a keynote address by cultural critic Dr. Jennifer Brody.
Also, check out this incredible article by PhD Candidate Amanda Phillips on her HASTAC blog (and cross-posted at UC Humanities Forum). It includes a list of participants, co-sponsors, and more information about Sharon Bridgforth's master class, "Finding Voice," and Dr. Brody's keynote address, "Performing Precarity."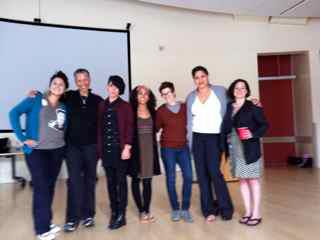 "Gender, Creative Dissidence, and the Discourses of African Diaspora: A colloquium in honor of Ama Ata Aidoo's 70th birthday"
When: May 24-26th, 2012
Where: UC-Santa Barbara, Interdisciplinary Humanities Center (IHC), McCune Conference Room (HSSB 6020)
Description: Our three-day conference will explore the intricacies of Aidoo's work and the broader questions of Diaspora and gender they raise. Scheduled for May 24-26, 2012, the colloquium uniquely coincides with two major events: the year of Ama Ata Aidoo's 70th birthday, and the UCSB Theater & Dance department's Spring 2012 production of Anowa. Ms. Aidoo will deliver the keynote address at the conference.
Caribbean Crossroads Conference
When: Feb 21 – 22, 2012
Where: McCune Conference Room, 6020 HSSB, UCSB
Description: This conference explores the interactions and points of contact between the different cultural and linguistic zones that make up the Caribbean region, in support of a less insular, more archipelagic sense of Caribbean culture. Contemporary Caribbean cultures are, as we know, the result of a complex mix of influences from around the world. Centuries before the term globalization was coined, the region occupied a strategic point in a global network of trade, communication, and, of course, labor. More recently, theories of intercultural hybridization and creolization have been central to debates over the cultural identity of the region. But what about the flows of culture within the region? Despite repeated calls for "charting the Caribbean as a literary region" (A. James Arnold), literary scholars have been much less adept than (for example) musicologists at tracing intra-Caribbean cultural exchange. This is due, in part, to the linguistic borders between the islands‑‑themselves a direct legacy of the region's colonial history‑‑a fact that suggests the importance of comparatist and multilingual techniques for developing a better understanding of the region's place within world literature.
More info: http://www.ihc.ucsb.edu/caribbean-crossroads/
The Hemispheric South/s Research Initiative
Department of English, University of California at Santa Barbara
"BPT 2011 :: Hemispheres & Souths"
Black Performance Theory Conference, May 2011.
Participants (not in order pictured): Omi Osun Joni L. Jones, Matt Richardson, E. Patrick Johnson, Jeffrey McCune, Venus Opal Reese, N. Fadeke Castor, Antonio Cuyler, Monica Ndounou, Anita Gonzalez, Thomas DeFrantz, Anna Scott, Anna Bean, Harvey Young, Koritha Mitchell, Christina McMahon, Melissa Blanco Borelli, Rashida Braggs, Hershini Bhana Young, Uri MacMillan, Sarah Jane Cervenac, Grisha Coleman, Yolanda Covington Ward, Raquel Monroe, Stephanie Batiste, Kristie Soares, Jayna Brown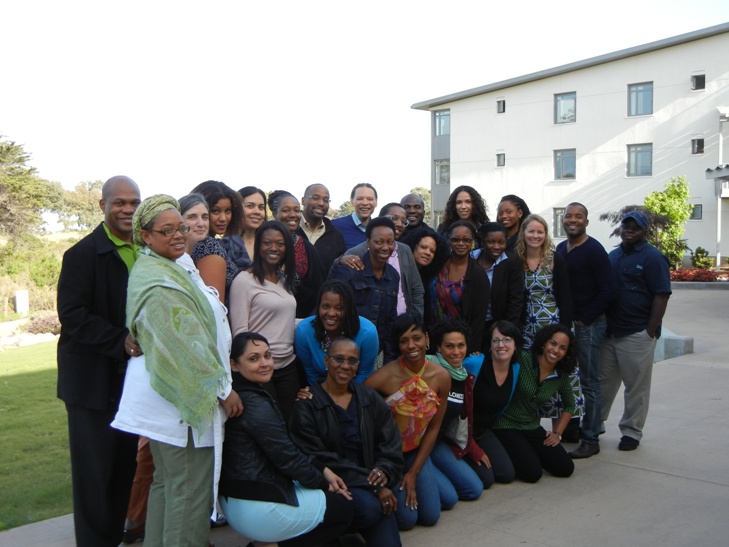 The Hemispheric South/s Research Initiative is very pleased to host the 2011 meeting of the Black Performance Theory working group, "BPT 2011 :: Hemispheres & Souths" happening May 6-7, 2011 at the University of California, Santa Barbara. At each meeting, a small cadre of scholars and practitioners share work in experimental sessions that have included dance performances, play readings, poetry and solo performance work, film screenings, flash animation presentations, and the creation of group improvisations. A space for active Witnessing allows audience members to engage productively with Participants' contributions.
This year's overarching theme draws inspiration from contemplations of black meetings and crossings in hemispheric and global souths. BPT:: "Hemispheres & Souths" invokes the vast and broad oceanic and land-based circulations of black performance. The 2011 working group seeks to link the translations, transmigrations, transnationalisms, and diasporisms implied by the notions of a Hemispheric South and a Global South to performance as practice and to nuances of race as performance. Participants' work constitutes a provocation that suggests unexpected routes of diaspora across "Hemispheres" and "Souths." Presentations can be partially literary, but contain an element of performance.
In preparing an offering for the group this year, Participants take up the overarching concept of a cardinal point like "South" or "West," "East" or "North" and work it through a combination of texts and/or scholarly works. For example, presenters might pick an imaginary place like the "dirty dirty South" and theorize it through Appurandi, Wyclef Jean, and Zora Neale Hurston to offer a hybrid performance of black social dance circa 1920 and 1990. Other imaginative structures might include "Up South," "Down South," "Southsides,"  "Pacific Rims," "Atlantic Rims," "Black Cities," "Black Wests," "I(s)-lands, ""Promised Lands"… etc . to theorize Black "Hemispheres & Souths" in performance.
Participants work in teams to construct creative presentation formats beyond the traditional conference-style reading of prepared papers. In this way BPT:: "Hemispheres & Souths" facilitates live, creative collaborative adventures in theory and performance.
The Black Performance Theory working group is a collective of scholars working on the theory, history, and practice of African American expressive cultures. The experience of writing and performing theory links scholars and scholar/performers in unique modalities of conversation, debate, and collaboration. Diverse disciplinary perspectives provide an unbounded look at performative commonalities of African diaspora including, but not limited to, gospel music, concert dance, hip hop music, black church oratory, architecture and public space theory, theater historiography, and queer cultures. We strive for vibrant critical discussion of methodologies, paradigms, and approaches to theorizing black performance.
This eighth invitation-based convening of BPT elaborates an exciting tradition of innovation inaugurated by Thomas DeFrantz and Richard Green in 1998. Working Group Meetings have included:
"Race and Representation," organized and hosted by Richard Green, Duke University, 1998;

"African American Performativity," Thomas DeFrantz, Massachusetts Institute of Technology, 2000;

"Black Performance Theory: Theorizing as if Race Matters," DeFrantz and Green, Stanford University, 2002;


"De/Cipherin' Practices," Anna B. Scott, UC Irvine, 2003;

"Contingent Geographies of Blackness," Ananya Chatterjea, University of Minnesota, 2004;

"

Crossroads in Global Performance,"

Annemarie Bean, Williams College, 2006;

"Black Performance Theory," E. Patrick Johnson, Northwestern University, 2007; •"Afrosonics: Grammars of Black Sound," Daphne Brooks and DeFrantz, co-sponsored by the Afro-American Cultural Center, African American Studies and the World Performance Project, Yale University, 2009.
BPT Schedule
Hemispheres and Souths
May 6-7, 2011
Friday May 6, McCune Room
9:00-9:30 — Continental Breakfast
9:30-10:30 — Welcome and Introductions
10:30-11:20 — "The Black Queer South: A Performance in Three Movements,"  Omi Osun Joni L. Jones, Matt Richardson, and E. Patrick Johnson
11:25-12:15 — "Da Bashment, Da Breath, Da Basement: Spheric Positions of and/from the Bottom," Jeffrey McCune, Venus Opal Reese, N. Fadeke Castor
12:15-1:30 — Lunch
1:30-2:20 — "Revising Representation: The Paradox of Language and Performance of Southern Black Characters," Antonio Cuyler, Monica Ndounou, Anita Gonzalez
2:25-3:15 — "easy-n-greasy: dirty south keeps rollin' along," Thomas DeFrantz & Anna Scott
3:30-4:20 — "Going Home: Memory, Performance, and All of Africa," Anna Bean, Harvey Young, Koritha Mitchell
4:20-5:30 — Profession and Research :: Dream Projects
Saturday May 7, Loma Pelona Room
9:30-10:00 — Continental Breakfast
10:00-10:50 — Profession and Research :: Workplace Climate
10:55-11:45 — "The Search for True North," Christina McMahon, Melissa Blanco Borelli, Rashida Braggs
11:45-1:00 — Box Lunch
1:00-1:50 — "the embrace of dis/orientation: errant souths and crooked dreams," Hershini Bhana Young, Uri MacMillan, Sarah Jane Cervenac
1:55-2:45 — "Transformative Gestures in Southern Rotation," Grisha Coleman, Yolanda Covington Ward, Raquel Monroe
2:45-3:00 — Break
3:00-3:50 — "Westworlds," Stephanie Batiste, Jayna Brown
3:50-5:00 — Profession and Research :: Promotion & Tenure
5:00-5:30 — BPT futures
6:00-8:30 — Dinner
BPT Working Group – Selected Responses 2011:
I love the organic, critical, rich, and dynamic energy of Black Performance Institute: Hemispheres and Souths! It is a blessing. Not only master minds, but folks putting bodies into motion and performing for the GODS! Wow.
Only at Black Performance Theory 2011, would the conference end with scholars dancing to Tupac n Dr. Dre's "California Love!" The conference began with a critical performance of the constraints and conflicts created through spiritual/familiar conservatism, ending with the "freedoms" possible through and because of performance. Performance imagines and leads to "heavenly space impossible here."
–Jeffrey McCune
I had a great time at BPT this year. The field is in such good hands with such wonderful folks coming up and through.
–E. Patrick Johnson
Dear Stephanie,  I want to thank you for an incredible weekend. Not only was I intellectually edified, I also very much so felt affirmed. I look forward to attending future BPTs.
–Antonio C. Cuyler
Thank you for organizing a great BPT! I had fun. Thank you for your time and energy. Both are greatly appreciated.
–Harvey Young
Thank you so much for welcoming me into the group and for facilitating and nurturing this wonderful space.  I am deeply grateful for your generosity and for all of the good learning.

–SarahJane Cervenac
That was a really fun, inspiring and productive BPT. Thank you for all your planning and fundraising. We really appreciate it and you! And, I look forward to the opportunities that come out of this meeting as well as our future BPT endeavors.
–Rashida K. Braggs
Stephanie,  Thank you much for all of your hard work and making us feel welcome at BPT/UCSB!  I am very inspired and excited to meet so many scholar/artists working in this field.  I look forward to keeping in touch. 
–Monica Ndounou
Since 2000, each event has received funding and administrative support from SLIPPAGE: Performance|Culture|Technology, the research group founded by Thomas DeFrantz at MIT.  
The group functions as a site for intellectual creativity, for communal consideration of foundational concepts in performance theory, and as a much-needed opening into the space of performance discourse as it might be inflected black.