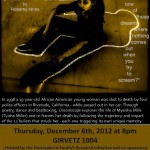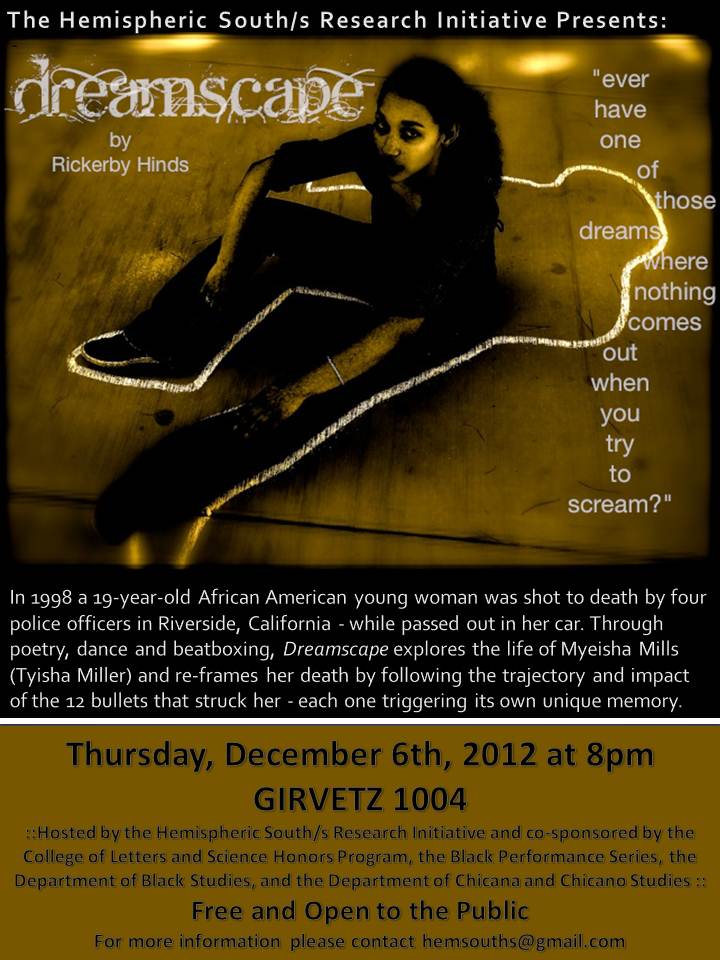 On December 6-7 Hip Hop Theater Artist Rickerby Hinds will be visiting our campus. On Thursday night at 8pm in Girvertz 1004, don't miss a performance of Dreamscape written and directed by Professor Hinds.  I've included more information about his critically acclaimed play here:
Synopsis:
In 1998 a 19-year-old African American young woman was shot to death by four police officers in Riverside, California – while passed out in her car. Through poetry, dance and beatboxing, Dreamscape explores the life of Myeisha Mills (Tyisha Miller) and re-frames her death by following the trajectory and impact of the 12 bullets that struck her – each one triggering its own unique memory.
Read an article about the show here.
Watch a short rehearsal video here.
He will also be facilitating two workshop sessions to which you are all invited as audience members. A schedule is included below:
Thursday, December 6, 2012
8-9:30pm :: performance of Dreamscape (Girvetz 1004)
9:30-10pm :: Q&A with playwright and actors (Girvetz 1004)
Friday, December 7, 2012
11-1 :: Hip Hop Theater Workshop w/playwright and director, Professor Rickerby Hinds, UCR (Girvetz 1004)
2-3 :: Hip Hop Theater Workshop w/Professor Rickerby Hinds featuring Stacks of Obits by Stephanie Batiste (SRB Multipurpose Room)
Hope to see you all there, and please do not hesitate to contact the Graduate Student Research Assistant Alison Reed (hemsouths@gmail.com) for more information!