Hemispheric South/s and the UCSB department of Theater and Dance announce the Yoruba Spiritualities and Global Acts Conference.
Tarrell McCraney's award-winning play In the Red and Brown Water features characters who boldly embody the Yoruba gods.This conference explores the power of Yoruba cosmologies to heal historical trauma by connecting Black communities worldwide. The creative and scholarly offerings link black identity and cultural expression in Africa and the Americas, exploring and substantiating concepts of diaspora.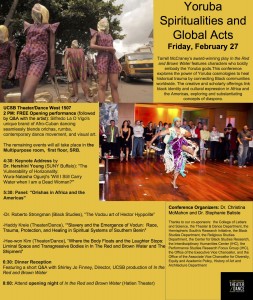 Schedule:
UCSBTheater/Dance West 1507
2 PM: FREE Opening performance (followed by Q&A with the artist): Silfredo La O Vigo's unique brand of Afro-Cuban dancing seamlessly blends orichas, rumba, contemporary dance movement, and visual art.

The remaining events will all take place in the Multipurpose room,  
first floor, SRB.
4:30: Keynote Address by
Dr. Hershini Bhana Young (SUNY Buffalo), "The Vulnerability of Horizonality:
Wura-Natasha Ogunji's 'Will I Still Carry
Water when I am a Dead Woman?'"
5:30: Panel: "Orishas in Africa and the Americas"
-Dr. Roberto Strongman (Black Studies), "The Vodou art of Hector Hyppolite"
-Haddy Kreie (Theater/Dance), ""Slavery and the Emergence of Vodun:  Race, Trauma, Protection, and Healing in Spiritual Systems of Southern Benin"
-Hee-won Kim (Theater/Dance), "Where the Body Floats and the Laughter Stops: Liminal Space and Transgressive Bodies in In The Red and Brown Water and The Shipment"

6:30: Dinner Reception
Featuring a short Q&A with Shirley Jo Finney, Guest Director, UCSB production of In the Red and Brown Water

8:00: Attend opening night of In the Red and Brown Water (Hatlen Theater)

Conference Organizers: Dr. Christina McMahon, Dr. Stephanie Batiste, and Haddy Kreie