2021-2023 Events
2022–23 Events
For the year of 2022–23, the Hemispheric South/s Research Initiative's programming will be focused on imaginative intimacies. This exploration will allow us to think through the intimate as a hermeneutic, asking: what does it mean to think about the intimate methodologically and creatively—as an affective framework, as a generative space between the critical and the creative?
Thinking about memory and nostalgia as imaginative intimacies, we will speculate about the temporal and spatial dynamics of the intimate. Memory and nostalgia can be understood as feeling the past via the intimacy between recollection, return, and desire, making habitable the proximal, or that which is close but resists being precisely located. To what degree, then, does the intimate potentiate dislocation, borderlessness, and alternate conceptions of time and space?
Considering the spatial further, how can we think about the relation between local and global intimacies, as well as private and public intimacies? These considerations can include but need not be limited to explorations of how cultural and national identities, knowledge systems, and bodies are brought into intimate relation when we trouble the discreteness of the spaces in which we feel together.
Through cultural, ethnic, and affect studies, we seek to understand the potential of the intimate as a creative and intellectual framework and as a means for differently imagining relationality.
"Agencies of Menace": The State, the Car, and the Music in Between with Dr. Shana Redmond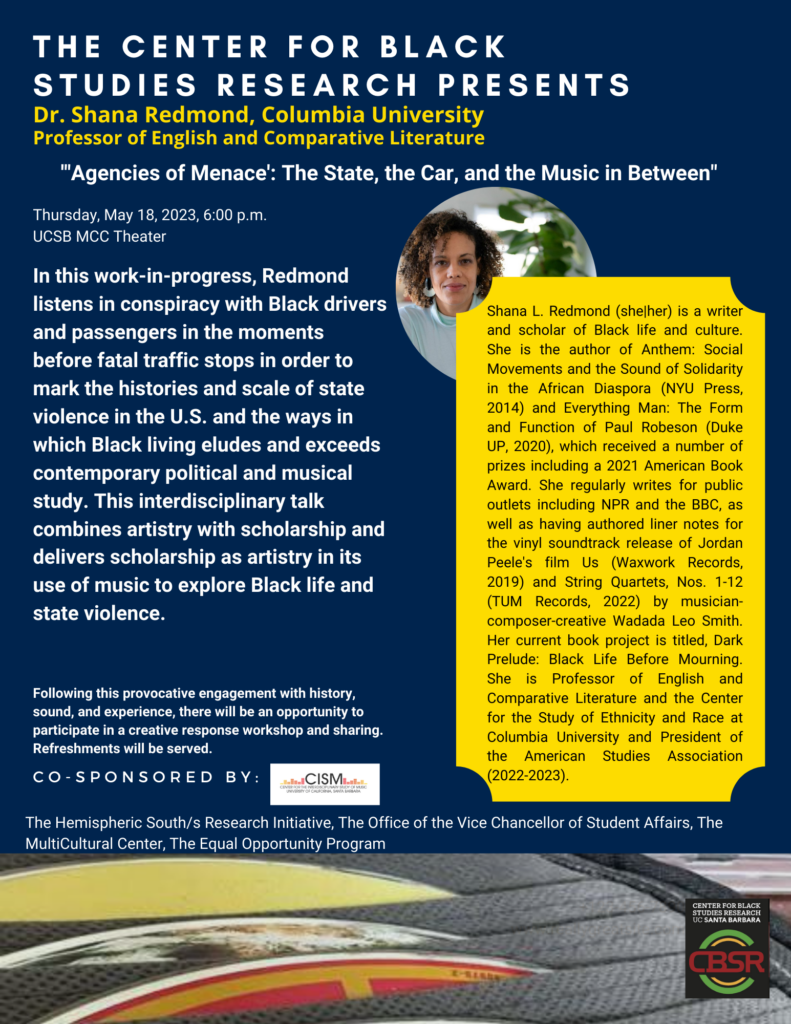 The Matter of Black Sentences: A Conversation with Dr. Kevin Quashie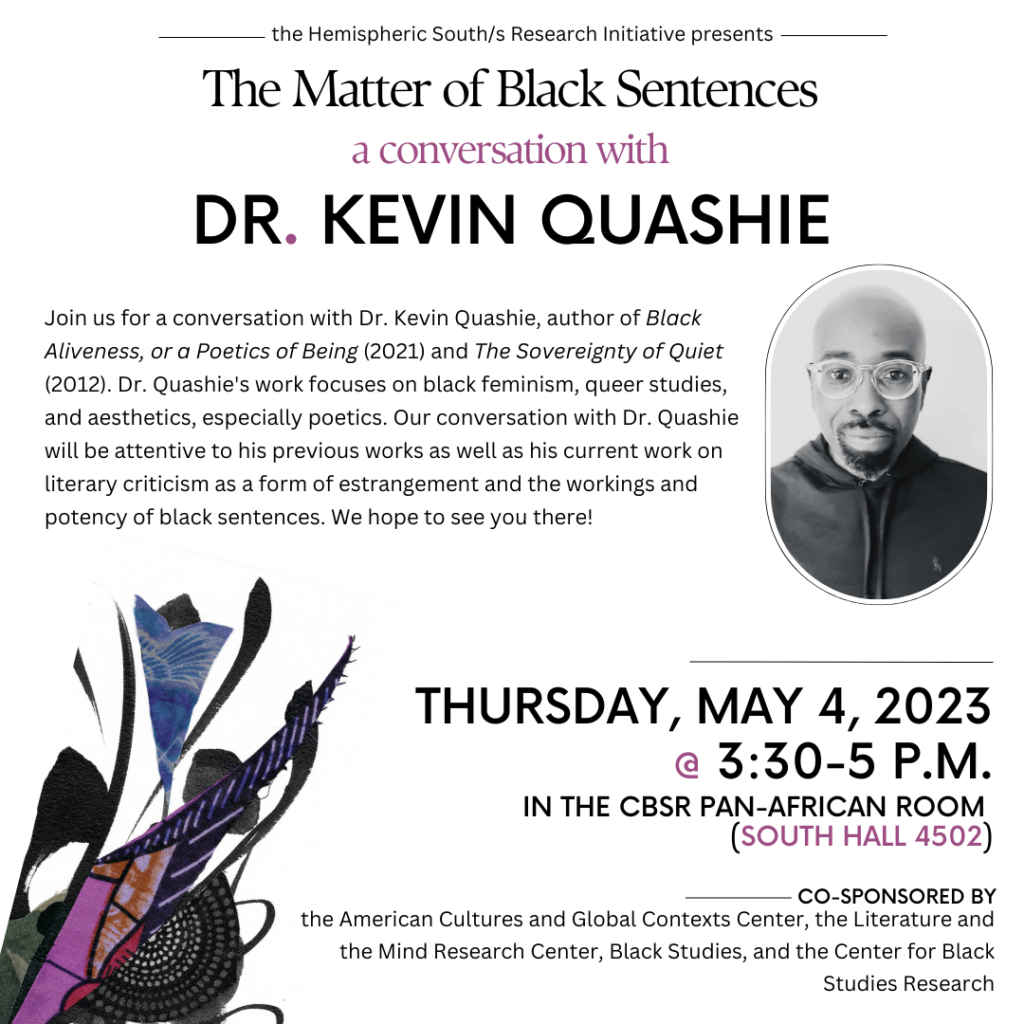 Event: The Matter of Black Sentences: A Conversation with Dr. Kevin Quashie
Time: May 4, 2023 @ 3:30 p.m. PST
In-person Location: Pan African Room (South Hall)
Remote location: https://tinyurl.com/KevinQuashie Meeting ID: 895 6703 0450 | Passcode: 748104
The Hemispheric South/s Research Initiative in collaboration with our co-sponsors, the American Cultures and Global Contexts Center, the Literature and the Mind Research Center, Black Studies, and the Center for Black Studies Research would like to invite you to our upcoming event: The Matter of Black Sentences: A Conversation with Dr. Kevin Quashie.
Together, we will chat with Dr. Quashie, the author of Black Aliveness, or a Poetics of Being (2021) and The Sovereignty of Quiet: Beyond Resistance in Black Culture (2012). Dr. Quashie's work focuses on black feminism, queer studies, and aesthetics, especially poetics. Our conversation with Dr. Quashie will be attentive to his previous works as well as his current work on literary criticism as a form of estrangement and the workings and potency of black sentences.
Office Hours with Dr. Kevin Quashie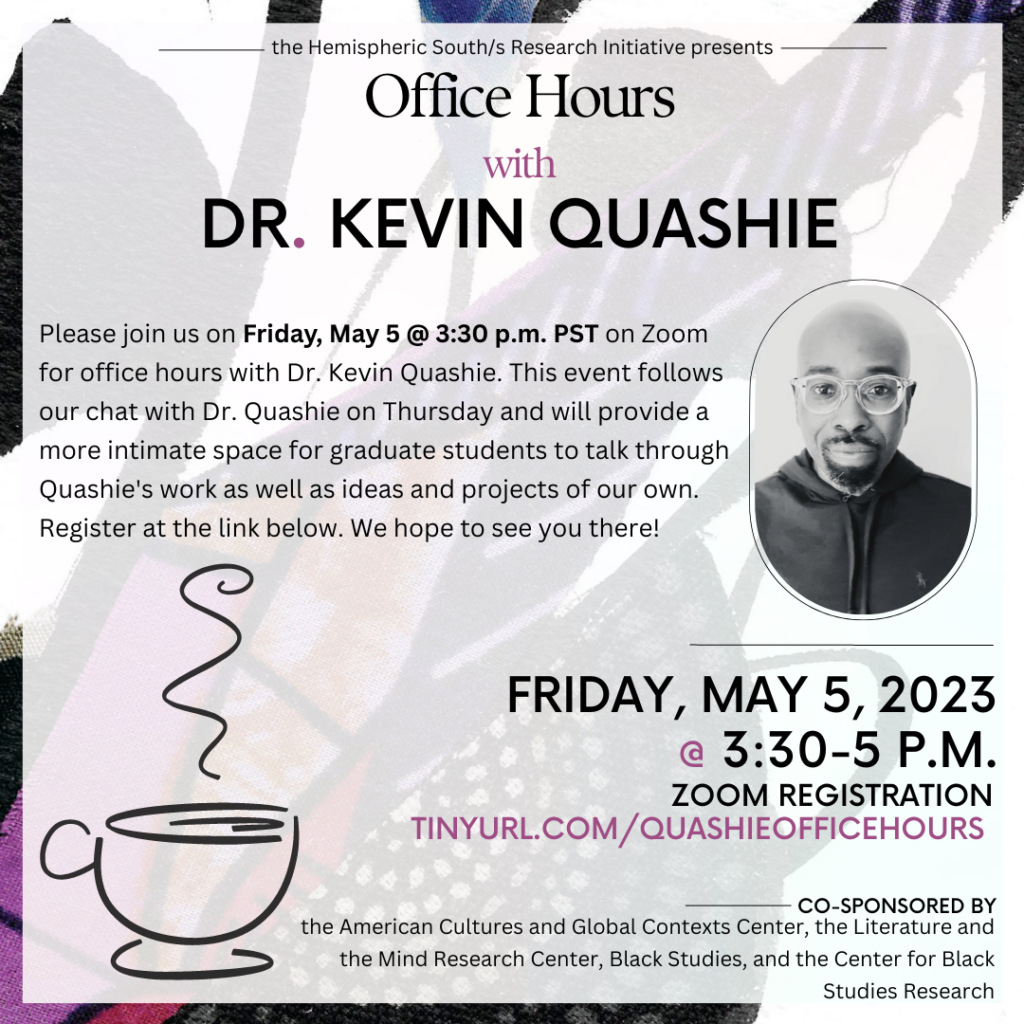 Event: Office hours with Dr. Kevin Quashie
Time: May 5, 2023 @ 3:30 p.m. PST
Location: Zoom
Registration: https://tinyurl.com/Quashieofficehours
Please join us again as we discuss, among graduate students and in a more casual setting, our work and Dr. Quashie's work. Register at the link above.
Methods and Modes in Creative/Critical Scholarship: A Gathering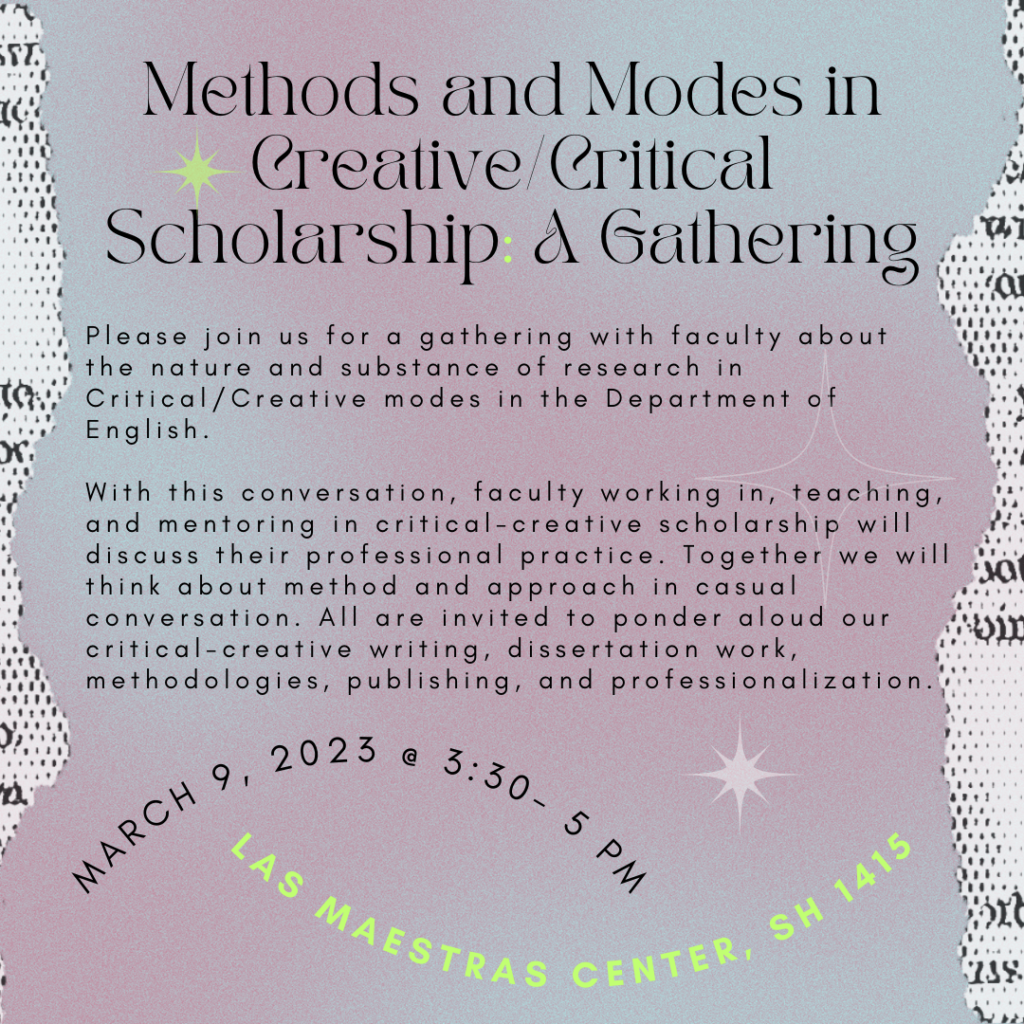 Event: Methods and Modes in Creative/Critical Scholarship: A Gathering
Time: March 9, 2023 @ 3:30 p.m. PST
Location: Las Maestras Center (South Hall)
This gathering was a preliminary discussion with faculty about the nature and substance of research in critical/creative modes in the English department. With this conversation, faculty working in, teaching, and mentoring in critical-creative scholarship discussed their professional practice. Together thinking about method and approach in casual conversation. All were invited to ponder aloud our critical-creative writing, dissertation work, methodologies, publishing, and professionalization.
---
2021–22 Events
Our programming for 2021-22 pursued the space between the critical and the creative, striving to evince from it the possibilities for alternative ways of knowing and being. Through this lens, we wondered together what a humanities of the global South does to verify the falseness of universality and what possibilities, to that end, emerge from this productive space between critical and creative work.
Affect in the Black Humanities Series
Event: Affect in the Black Humanities Series
Location: tinyurl.com/blackaffectHemSouths (passcode: 265439)
About: Join us for a series of three in-class discussions on affect in the black humanities in the context of Professor Stephanie Batiste's "Modernism in the Harlem Renaissance" graduate seminar.
---
Combining black feminist theory, philosophy, and performance studies, Sarah Jane Cervenak ruminates on the significance of physical and mental roaming for black freedom. She is particularly interested in the power of wandering or daydreaming for those whose mobility has been under severe constraint, from the slave era to the present. Since the Enlightenment, wandering has been considered dangerous and even criminal when associated with people of color. Cervenak engages artist-philosophers who focus on wayward movement and daydreaming, or mental travel, that transcend state-imposed limitations on physical, geographic movement. From Sojourner Truth's spiritual and physical roaming to the rambling protagonist of Gayl Jones's novel Mosquito, Cervenak highlights modes of wandering that subvert Enlightenment-based protocols of rationality, composure, and upstanding comportment. Turning to the artists Pope.L (William Pope.L), Adrian Piper, and Carrie Mae Weems, Cervenak argues that their work produces an otherworldly movement, an errant kinesis that exceeds locomotive constraints, resisting the straightening-out processes of post-Enlightenment, white-supremacist, capitalist, sexist, and heteronormative modernity. Their roaming animates another terrain, one where free, black movement is not necessarily connected to that which can be seen, touched, known, and materially valued.
Lindsay Reckson teaches and writes at the intersection of American and African-American literary studies, performance studies, media studies, and religion. Her first book, Realist Ecstasy: Religion, Race, and Performance in American Literature, was published in January 2020 from NYU Press. A study of the affective life of Jim Crow secularism, Realist Ecstasy demonstrates how the realist imagining of possessed bodies helped construct and naturalize racial difference while excavating the complex, shifting, and dynamic possibilities embedded in ecstatic performance. She is the editor of American Literature in Transition: 1876-1910, forthcoming from Cambridge University Press. Her current book project, Notes on Gesture, is a series of essays exploring how minimal or routine gestures become sites of ethical inquiry in times of attenuated political possibility. Her essays have appeared in American Literature, Arizona Quarterly, American Religious Liberalism (ed. Schmidt and Promey), the Los Angeles Review of Books, Avidly, Material and Visual Cultures of Religion, The Pocket Instructor: Literature, and Keywords for American Cultural Studies. She received a 2016-2017 ACLS Fellowship for Realist Ecstasy, and was the winner of the 2020 Lindback Award for Distinguished Teaching.
Dr. Felice Blake specializes in twentieth-century African American literature, African American studies, and critical analyses of gender and sexuality. Her research interests are situated within the fields of literature, cultural studies, Black Studies, and gender studies. She is the co-author of Antiracism, Inc.: Why the Way We Talk About Racial Justice Matters and Black Love, Black Hate: Intimate Antagonisms in African American Literature. She is currently and associate professor at the University of California, Santa Barbara.
Creative-Critical Approaches to Studies of the Global South
---
Global Imagination of Racial Justice Reading Series
---
This Bridge Called My Back 40th Anniversary
---